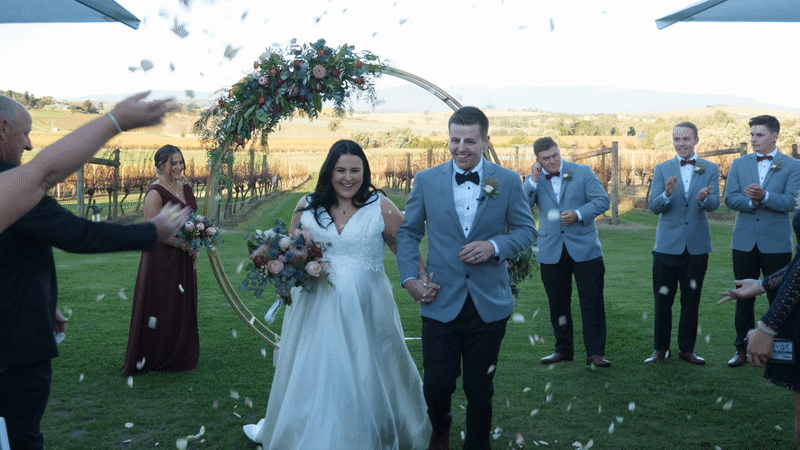 Melbourne Wedding Videography
Elegance Captured Effortlessly
Crafting Timeless, Artistic Wedding Films with a Personal Touch
Your wedding filmed in stunning 4k
Capturing those special moments
So you can treasure them for life
Bring Your Love Story to Life with The Merri Studio
Step into The Merri Studio, where we weave the delicate threads of your love story into a stunning visual tapestry. As Melbourne's premier wedding videography service, we harness the power of film to translate your romance, joy, and unity into a cinematic masterpiece that stands as a timeless ode to your love.
​
Cinematic Excellence, Personal Touch
With a refined aesthetic and meticulous attention to detail, our skilled videographer infuse each frame with life, emotion, and the sublime beauty that graces your special day. At The Merri Studio, every video is a harmonious blend of cinematic excellence and intimate narrative, echoing the unique cadence of your love story.
​
Tailored Visual Journeys
Your journey of love is unparalleled, and your wedding film should be a mirror to this extraordinary adventure. We offer custom-tailored videography packages, ensuring your wedding video is a distinct reflection of your character, style, and emotional bond. Witness the grandeur, the intimacy, and the pulsating love in every crafted frame.
​
Unobtrusive Filming, Immersive Experience
Immerse yourself in the celebration as we work seamlessly in the backdrop to capture every poignant moment, every tender glance, and every joyful dance. Our approach is unintrusive, ensuring the natural flow and authentic expression of your wedding day are undisturbed, resulting in a genuine and compelling visual narrative.
​
Innovative Techniques, Timeless Appeal
Embrace the future with our advanced filming techniques and technology, assuring top-notch quality and innovative storytelling. Despite the progressive approach, the essence remains timeless – a heartfelt depiction of your love, promise, and celebration.
​
Join Us in Crafting Your Love Epic
Entrust The Merri Studio with the honor of painting your love story on the vast canvas of film. Engage with us, and let's embark on this exquisite journey of visual storytelling together. Your cherished moments are waiting to be artistically immortalized into a cinematic treasure.
Wedding Videography Packages
The Cinematic Package
$2499
Coverage:
​Up to 8 hours of coverage

One videographer
​
Features:
High-definition 4k video

Professional audio recording

Multi-camera editing

Drone (location and weather dependent)
​
Final Deliverables:
Highlight reel (5-7 minutes)

Edited wedding film (full-length presentation of ceremony and reception)

Online hosting of the highlight reel

Videos presented in a bespoke USB
​
Extras:
1 minute social media reel

Additional videographer

Live streaming

Wedding films on BluRay or DVD
​
The Director's Cut Package
$3999
Coverage:
​Up to 10 hours of coverage

Two videographers
​
Features:
High-definition 4k video

Professional audio recording

Multi-camera editing

Drone (location and weather dependent)
​
Final Deliverables:
Highlight reel (5-7+ minutes)

Edited wedding film (full-length presentation of ceremony and reception)

Online hosting of the highlight reel

Videos presented in a bespoke USB
​
Extras:
1 minute social media reel

Additional videographer

Live streaming

Wedding film on BluRay or DVD
​
The Feature Film Package
$5499
Coverage:
Full Day Coverage

Two videographers
​
Features:
High-definition 4k video

Professional audio recording

Multi-camera editing

Drone (location and weather dependent)
​
Final Deliverables:
1 minute social media reel

Highlight reel (5-7+ minutes)

Edited wedding film (full-length presentation of ceremony and reception)

Online hosting of the highlight reel

Online hosting of the wedding film

Videos presented in a bespoke USB
Extras: ​
Live streaming

Wedding film on BluRay or DVD
Your treasured memories delivered in a
unique, elegant USB and box